Cygnet killed by shot in the head in Windsor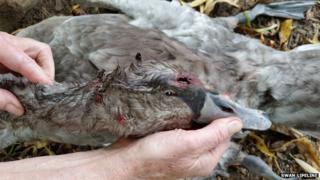 A dead baby swan has been found with a shot wound to its head in Windsor.
The cygnet, which was recently marked in the Queen's annual Swan Upping audit, was found floating by Windsor Bridge in the River Thames on Sunday.
Wendy Hermon, from Swan Lifeline in Eton, said it was "terribly upsetting" to find the four-month-old bird, which she thinks was shot with an air rifle.
The Queen's royal swan marker David Barber said he would look into this "horrific situation" with the police.
Crown property
Ms Hermon said: "Sometimes they [swans] die of natural causes, but we went out on the boat, picked it up and immediately saw that it had a shot wound to the head.
"It was really upsetting for us because we have watched the family of four cygnets grow from when they hatched."
Mr Barber said he recalled weighing and measuring the cygnet during the swan population census, a royal ceremony which dates back to the 12th Century.
"There have been many swans shot in the Windsor area," he said.
He added that if the "culprit" was found, the dead swan would be claimed for the Queen.
The offence would therefore also be one of damaging Crown property, as well as killing a protected animal under the Wildlife and Countryside Act 1981.
Ms Hermon said the father of the cygnet was also missing and was being searched for at the moment.