Maidenhead town centre £230m regeneration plans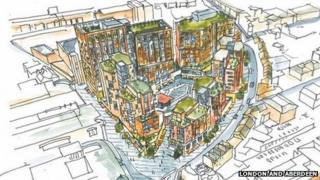 A proposed £230m regeneration scheme will "bring new life" to Maidenhead, developers say.
Plans for the Landing development site, on Broadway, consist of shops, offices, restaurants, homes, underground parking and a new plaza.
The project, from developer London and Aberdeen, aims to improve accessibility and links to Nicholsons Shopping Centre and High Street.
An exhibition on the proposals will run from 2 to 4 October on King Street.
Doug Higgins, managing director at London and Aberdeen, said the revamp aimed to "bring new life, activity and energy to Maidenhead town centre".
"With Crossrail arriving in 2019, Maidenhead needs an entrance to the town which it can be proud of," he added.
The plans will be discussed at a public meeting in the town hall council chamber, on 8 October at 18:30 BST.