Winchester House demolition begins in Bracknell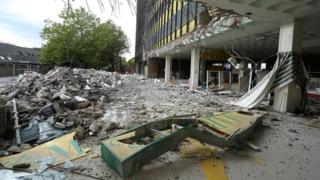 The demolition of a derelict tower in Berkshire has begun.
Plans to demolish Bracknell's Winchester House to make way for a £50m 19 storey building housing 311 homes was approved in April.
Bracknell Forest Council confirmed that the external structure of the existing 12 storey tower would come down "in the next few weeks".
Building owner Comer Homes has started to dismantle internal fixtures and fittings.
Marc Brunel-Walker, the council's executive member for economic development and regeneration, called the demolition a "really exciting step" and said: "Our residents have been waiting a long time for Winchester House to vanish from the Bracknell Forest landscape and it's finally happening."
The tower was last occupied by technology company 3M.
Mr Brunel-Walker said: "Our residents repeatedly cite the building's demolition as one of their priorities and so we have worked with Comer Homes continuously over the past two years to ensure this site will be removed from the borough's landscape by spring 2015."