Greenham Common Cold War control tower revamp starts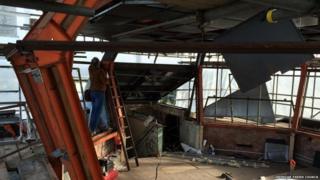 Work to transform a disused Cold War airbase control tower into a visitor centre is under way in Berkshire.
The Grade II listed tower on Greenham Common is set to include displays explaining the history of the common and the tower, where US cruise missiles were located in the 1980s.
The council, which received £421,555 to buy and refurbish the tower, hopes it will be open to the public next summer.
Work includes repairs to a leaking roof.
Councillor Julian Swift-Hook said the the first tasks in the tower's restoration involved "repairing the damage resulting from 20 years of neglect and vandalism".
He said this also included broken windows, crumbling plaster, peeling paintwork, rusty steelwork, and rotten timbers.
Built in the early 1950s, it has been disused since the airbase closed in 1993.
The visitor centre will include a cafe and facilities for schools and other groups.
Many of the tower's distinctive features will be retained including the viewing gallery at the top.
"It's so important that the story of Greenham Common is told so that future generations can understand just how close we were to global annihilation in the 1980s," Mr Swift-Hook said.
The control tower overlooks the common which became a public open space in 2000 and is now home to a nature reserve and business park.