Mothers-to-be turned away from Royal Berkshire Hospital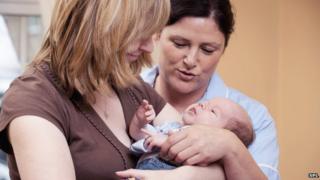 Fifteen expectant mothers were turned away from a Reading hospital in August because of a lack of midwives.
Board papers from Royal Berkshire Hospital show staff vacancies, sickness and leave were key factors.
Mother Annessa Spence said she received "appalling" treatment and would never have a baby at that hospital again.
The hospital's midwife director said staff maintained "a safe service" during that time and that 10 midwife vacancies had now been filled.
On average, the hospital delivers 500 babies a month.
Seven-day wait
The hospital papers showed the maternity unit had to close 16 times in August because of staffing problems.
Director of Midwifery services Gill Valentine said a total of 15 mothers-to-be had to be diverted to hospitals in Swindon and Oxford during that time.
"In August we did have a higher than usual number of vacancies," she said.
"We actually also had a few midwives who were on maternity leave themselves and then we did have a slightly higher than usual sickness rate.
"The three things together meant at times we did have problems with our staffing numbers."
She added 100 more babies were delivered this August than in the same month last year.
Mrs Spence, who gave birth at Royal Berkshire Hospital, said she was admitted when her waters broke prematurely but that her son could not be delivered until seven days after.
"They said they couldn't find a space for me to have him," she said.
"Because of the lack of waters he has been left with eczema. The service was appalling."
Data obtained by the BBC under the Freedom of Information Act showed 62 trusts out of 121 respondents - or 51% - temporarily closed maternity units in 2013.
Parenting charity the National Childbirth Trust said: "This failure of maternity services can mean women get passed from pillar to post when having a baby."