Pilot jailed for £30m mortgage fraud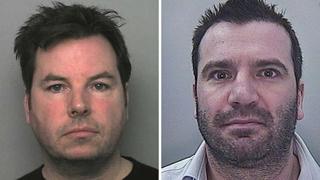 A former Virgin Atlantic pilot has been jailed for 14 years for committing a £30m mortgage fraud in Berkshire.
Mark Entwistle, 47, of Kensington, west London, recruited corrupt solicitors and accountants to approve his loan applications while he pretended to be a property developer based in Windsor.
In reality, he was spending the money at casinos in Las Vegas and on a luxury boat, Southwark Crown Court heard.
Two solicitors and an accountant were also jailed for fraud.
New York holidays
Entwistle and solicitor Jonathan Gilbert, 45 - a partner at Wilmett's solicitors in Reading and Maidenhead - conned RBS and Northern Rock out of more than £6m, the court heard.
Gilbert, of Penarth, Vale of Glamorgan, pleaded guilty to 21 counts of conspiracy to defraud and was jailed for 12 years.
As well as working for Entwistle, Gilbert acted as the solicitor for the lenders. In payment, Entwistle gave Gilbert an American Express card which he used to buy holidays to New York, Sardinia and New Zealand. Entwistle also picked up the rent on Gilbert's Windsor home, allowing him to live there for free.
'Vague pretence'
Judge Martin Beddoe said Entwistle was "arrogant and greedy, brazen to the last with no expression of remorse".
He added: "A great deal of money was blown on your excesses Mr Entwistle, to keep up the vague pretence to your friends and others of what a rich and successful man you were."
He was sentenced in July, but the case can only be reported now after a court order was amended.
Bank employees were also found guilty of involvement in the multi-million pound fraud, including accountant Nicholas Pomroy, 58, of Baughurst, Hampshire, who was sentenced to three years; and solicitor Matthew Robinson, 40, of Heydon, Norfolk, who received five years.
Thames Valley Police said the investigation, which began in 2009, was among one of its longest ever.
Det Supt David Poole said "Testimony was heard in court about the stress suffered by some whose homes have been sold from underneath them, those who lost life savings and investments, and those who lost jobs."