Ufton Nervet level crossing: 'Urgent action' needed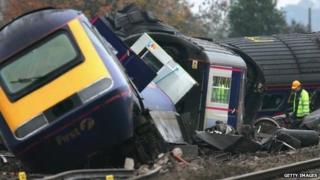 An Ufton Nervet train crash survivor has called for "urgent action" after another person was killed at the "notorious" level crossing.
A man killed at the Berkshire crossing on Thursday is the fourth person to die there since a 2004 crash that killed seven people.
Jane Hawker, who was injured in that crash, said action was needed to "stop this appalling repetition".
Network Rail said it was trying to find funding for a bridge at Ufton Nervet.
Spokesman Julian Burnell said a bridge design had been completed but it will cost "significantly more than anticipated".
He said a bridge is the company's "preferred option", but unless funding is found the only option may be to make changes to the existing crossing.
'Take action'
On 6 November 2004, a train driver and five passengers died, and 120 others were injured, when local chef Brian Drysdale parked his car on the Ufton Nervet level crossing in the path of an intercity train.
Ms Hawker, from Newbury, who received minor injuries in the crash, said it was a "notorious" crossing because this was the latest of three deaths since the disaster.
"That should give Network Rail even more reason to take action urgently to stop this appalling repetition," she said.
Network Rail has said the latest death is not being treated as suspicious.
In October last year Network Rail said it was in the process of finding a solution for the crossing, which is between Theale and Aldermaston stations in Berkshire, and said it had been working with West Berkshire Council on a timescale to build a bridge.
Mr Burnell said negotiations had continued with landowners, local communities and the local authority.
"That another incident of this nature should happen at this point is a tragedy, but serves to underline the necessity of Network Rail's programme of closing level crossings," he said.
More than 750 level crossing have been closed over the past five years.
Analysis: Paul Clifton, transport correspondent, BBC News
Level crossings remain by far the highest area of risk on the railway.
Network Rail has closed 800 in the past five years, and plans to close 500 more.
In 2012 it stated that replacing the automatic half-barrier crossing at Ufton Nervet with a bridge was its "preferred option".
But since then, nothing has happened. No consultation, no design, no planning application.
This is the fourth death - and there have been two further near misses - since the appalling crash a decade ago.
A small memorial garden beside the crossing is tended by survivors of that crash.
From their perspective, the pressure on Network Rail to prioritise this blighted and uniquely emotive level crossing is now overwhelming.