Jokers' Masquerade psycho Halloween costumes 'appalling'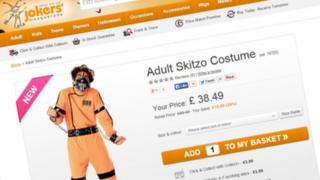 A fancy dress firm is selling "disgusting and appalling" Halloween costumes that stigmatise people with mental health issues, a government minister has said.
Jokers' Masquerade has a psycho-costume section, which includes outfits labelled as "skitzo" and "psycho ward".
Health minister Norman Lamb, said he was going to investigate whether they can be banned.
The Newbury-based firm has not responded to BBC requests for comment.
A petition has been raised calling for the costumes to be taken off sale.
The orange jumpsuits include shackles and restraining face masks with "committed" stamped on one outfit.
Mr Lamb said the outfits "reinforced stereotypes" and urged people not to buy the costumes. "I will also look at whether it's possible to achieve a ban," he said.
Charity, the Mental Health Foundation (MHF) has also demanded their withdrawal.
Isabella Goldie, of the charity, said: "Costumes like these reinforce the social myths and stereotypes that people with mental health problems are dangerous and are to be scared of.
"There are all too many young people sitting alone in their rooms who are in distress but don't feel able to ask for help because they fear ridicule or rejection and these costumes just show clearly where some of that fear comes from."
Last year, supermarket chains Tesco and Asda withdrew two Halloween outfits being sold online as a "psycho ward" outfit and a "mental patient fancy dress costume" after criticism.
Both stores apologised for any offence caused and agreed to make donations to the mental health charity, Mind.