Dappy avoids jail for Reading nightclub attack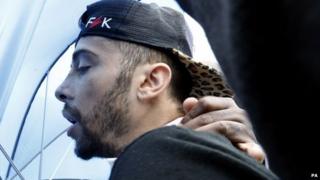 Former N-Dubz star Dappy has avoided a jail term after punching a man at a nightclub.
The singer, real name Costadinos Contostavlos, attacked Devonn Reid, who told him to stop talking to his female friend and girlfriend, at Evissa in Reading on 6 October last year.
At the time Contostavlos was serving a suspended sentence following a brawl at a Guildford petrol station.
Contostavlos was handed a two-month sentence, suspended for 12 months.
Judge Neil Stewart, at Guildford Crown Court, decided not to activate the previous suspended sentence for assault and affray.
Instead, Contostavlos was given a 12-month supervision order and a four-month curfew to be at home between 22:00 and 05:00.
He was also ordered to attend a Thinking Skills Programme, which addresses the way offenders think and their behaviour associated with offending.
The singer was also ordered to pay £1,200 prosecution costs, an £800 fine, £800 in compensation to his nightclub victim and a statutory surcharge of £80.
As he left the court, Contostavlos said: "I feel amazing. It's a brand new me."
'Popped my nose'
During the trial, the court heard Mr Reid, a football coach, went to the nightclub to celebrate his 21st birthday with a group of about 15 friends.
He became aware of a man he recognised as Dappy having a conversation with a female friend Marie O'Reilly and later putting his arm around her.
Mr Reid said of the unprovoked attack: "He had just turned and hit me straight with his right hand... he had popped my nose."
The rapper has had several run-ins with the law before, having been sentenced to a community order in 2005 for possessing a bladed weapon in a public place.
In 2007 he was given 40 hours of community service after pushing a taxi driver in an argument, and he was fined £800 in June for slapping a man outside a nightclub in Chelmsford, Essex.
Sentencing for the Reading assault was adjourned at the town's magistrates' court last month when District Judge Davinder Lachhar ruled that the case should be sent to Guildford Crown Court because Contostavlos was "in breach" of the suspended jail term he was given there in 2013.