Protest in Slough against M&S work conditions at Swindon warehouse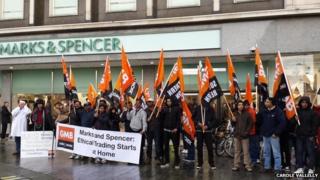 Workers at a Marks & Spencer warehouse have staged a protest over "Victorian" working conditions.
Agency staff gathered outside outside an M&S store in Slough protesting against a six-day working week until January and "pay inequalities".
Protestors came dressed as A Christmas Carol's Marley and Scrooge, claiming that is what M and S stood for.
M&S said the agency staff were employed via warehouse operator Wincanton and it was "aware of the issues raised".
About 50 protestors and GMB trade union representatives protested in the Berkshire town against the treatment of agency workers at the warehouse in Swindon, Wiltshire.
Domingos Seby Dias from Swindon said he had been working as a stock handler at the warehouse for five years and wanted the same benefits as M&S staff.
"We don't get a Christmas bonus or double pay on Sundays and they call us in for bank holidays," he said.
"We are being discriminated against and harassed by these rotas."
An M&S spokesman said: "All employees on-site are employed either directly or indirectly by Wincanton.
"We are aware of the issues raised by the GMB and are in close contact with our partner."
A Wincanton spokesman said: "Wincanton is a fair and ethical employer and we endeavour to give our colleagues, whether Wincanton or agency, fair and safe working conditions."
Wiltshire GMB representative Andy Newman turned up as the miser Scrooge from Charles Dickens' famous Christmas story to highlight the "mean-spirited" treatment by M&S.
He said: "Despite the arms-length relationship that Marks and Spencer chooses to have with these workers, this is an M&S warehouse, where M&S products are stored and dispatched to M&S stores, to be sold to M&S customers to make profits for M&S shareholders."