Royal Berkshire Hospital investigated over waiting time data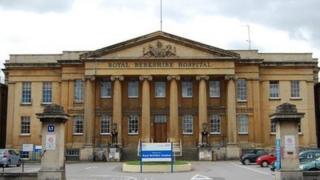 Royal Berkshire Hospital NHS Trust is being investigated by health regulator Monitor over mismanagement of patient waiting time data.
The hospital in Reading is now "back-checking 40,000 records".
Monitor said data gaps "raised questions" over the trust's "ability to meet national waiting time targets".
A hospital spokesman said so far only a dozen out of 27,000 records checked showed a "slight overshot" of the 18-week waiting time limit.
He stressed the data being investigated did not include waiting times of cancer patients and put the glitches partly down to logging errors on the hospital's new £28m computer system.
'Issues can be fixed'
Monitor will also look into how the trust, which has an annual budget of more than £300m, will deal with a predicted £3m deficit over the coming 12 months.
The trust's new chief executive Jean O' Callaghan, who started in August, said: "We are aware of the issues and are working hard to put them right - and firmly believe we can achieve that."
Monitor regional director Paul Streat said: "We are investigating because of problems with the trust's financial position, and because there are potential concerns with the way it manages patient waiting lists.
"The trust's new chief executive has made some progress with tackling these issues.
"However, we need to make sure the trust is doing enough to fix these problems and improve how the hospital is run for its patients."