Wexham Park Hospital to get new A&E department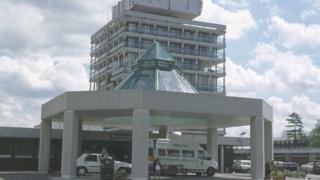 A £25m accident and emergency department is set to open in Slough by the end of 2017.
Frimley Park Hospital Trust, which took over Wexham Park Hospital in October, wants to build the new facilities, which will include individual rooms for patients.
Plans include en-suite X-ray facilities and a second CT scanner.
Work is due to start in 2016 with part of the current building being demolished.
Andrew Morris, chief executive of Frimley and Wexham Park Hospitals, said having just one CT scanner was causing a "bottleneck".
'Privacy and dignity'
He added: "We want to put in state of the art diagnostics.
"The accommodation we have, whilst it's spacious, doesn't offer as much privacy and dignity as we would like."
In February, Heatherwood and Wexham Park Hospitals NHS Foundation Trust in Berkshire was rated as inadequate by the Care Quality Commission (CQC).
It was placed in special measures at the start of May.
In its report, the CQC identified areas for improvement including staffing levels, A&E waiting times and surgical cancellations.
Frimley Park Hospital NHS Foundation Trust in Surrey was given the go-ahead for the takeover by the Competition and Markets Authority.
Wexham Park Hospital said it was now hitting the national standard of seeing, treating, admitting or discharging patients within four hours on 95% of occasions.
Mr Morris said: "The staff are working flat out to provide local people the very best service we can.
"I'm confident people we will see an improvement in patient experience."