Inscription leads to 1970s Newbury canal volunteers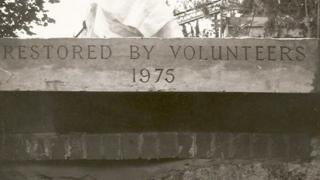 The discovery of a stone engraving on a canal lock in Newbury, Berkshire has led to finding the volunteers who restored it nearly 40 years ago.
They were tracked down after a moss-covered inscription was revealed which read: "Restored by volunteers 1975."
The group spent a year restoring Bulls Lock on the Kennet and Avon Canal.
One of the group, Jan Copley, said: "We shovelled mud out into buckets, then it got hauled up the side, so we went home pretty disgustingly dirty."
The inscription was found under thick moss during recent repair works.
Steve Manzi, from the Canal and River Trust, said: "It was brought back to life through the dedication and hard work of canal enthusiasts 40 years ago
"Without the volunteers in the 70s, Bulls Lock wouldn't be here."
The recent work costing £120,000 saw the lock's walls, gates and ground paddles, which release water into the lock, repaired. The work in 1975 cost £4,000.
The lock, built between 1718 and 1723, sits on the Kennet and Avon Canal, which runs between Reading and Bristol.