Reading to Paddington train delays due to old equipment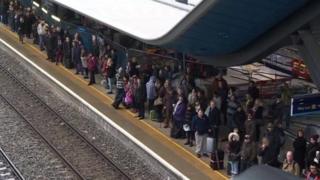 Old signalling equipment was to blame for a series of train delays on the Reading to Paddington line, First Great Western (FGW) has said.
The firm said the age of the equipment in Maidenhead, which is managed by Network Rail, was "of concern".
Network Rail said it "apologised for the recent problems" and would "work to bring about major improvements to the service".
Commuters faced long delays three times in one week in October.
'Not robust'
FGW managing director Mark Hopwood outlined what caused the delays - which had not previously been disclosed - in a letter to Reading East Conservative MP Rob Wilson.
He wrote there had been "a particular issue with signalling at Maidenhead".
He said: "Work to renew the signalling in this area was cancelled at Christmas 2012. The age of the equipment and associated cables is of concern.
"They are simply not robust, and when Crossrail and the electrification teams started work in the area, disruption to the land around their work sites caused signal failures.
'No laughing matter'
"This was not a case of signals being cut, but rather the signalling equipment not being able to withstand the pressure caused by nearby work."
Network Rail said this work has stopped and will not be resumed until the signalling is replaced.
Mr Wilson, who himself was caught up in the disruption, said: "The performance levels on the railways of late have at times been bordering on farcical - however it has been no laughing matter for those who live and work in Reading."
Rail Minister Claire Perry said the delays were "not acceptable".
She wrote in a letter to Mr Wilson that the problems were "in large part" down to Network Rail.
Network Rail said it was investing £350m to improve signalling technology.