Royal Berkshire Hospital cardiac unit 'fastest in country'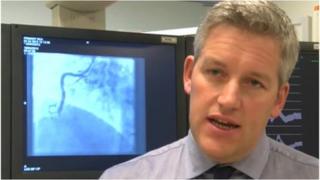 Heart attack patients at a hospital in Reading are receiving the fastest life-saving treatment in the country, its NHS trust has said.
Royal Berkshire Hospital's cardiac unit has been named the speediest in England and Wales for treating patients within 120 minutes of them calling 999.
Annual figures show the hospital's rate of hitting the 120-minute target is 94.2%, compared to 58.9% nationally.
Consultant cardiologist Will Orr said it was down to "effective teamwork".
"We are absolutely delighted that the report finds patients in our area are getting the fastest treatment in the country," he said.
"It is the result of really effective teamwork - by everyone involved in the care of patients - from the South Central Ambulance paramedics to the staff of our cardiac unit."
Time-sensitive treatment
Royal Berkshire has come top of a table compiled by the Myocardial Ischaemia National Audit Project (MINAP).
The second best unit - Dorset County Hospital, Dorchester - recorded an 82.4% success rate.
Mr Orr said a patient's chance of mortality increases by nearly 70% if the treatment is given in the third hour - between 120 and 180 minutes - after the 999 call.
Royal Berkshire's unit has been named the fastest for the third year running and in October was given a Pride Of Reading award.