Heathrow Hub runway expansion plans on display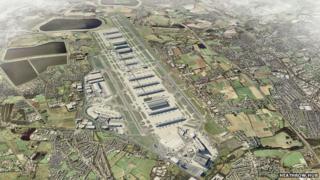 The team behind one of Heathrow's expansion plans is holding a series of public exhibitions in east Berkshire.
The Heathrow Hub proposal is to extend the airport's existing northern runway, bringing it close to Windsor.
The exhibitions come ahead of a meeting against the plans, being held by Windsor residents, who fear increased noise levels, among other issues.
Heathrow Hub said it was "committed to developing innovative noise reduction tactics".
Royal Borough of Windsor and Maidenhead councillor George Bathurst, chairman of the council's aviation forum, said Windsor residents were "anxious" about the proposals being considered by the Airports Commission, another of which is to add a third runway north-west of the airport.
He said: "We are against both of the Heathrow expansion options, as this would see an increased level of noise for our residents as well as damaging our world-famous heritage sites, Windsor Castle and Eton College."
Heathrow Hub proposes to extend Heathrow's existing northern runway to a length of about 6,800 metres (22,309 ft) and divide it, to create two runways.
A spokesman said the plans "would make sure there was minimal impact to the local area".
He added: "The fact that our scheme is lower in cost than others means there would be more headroom for generous compensation for those people affected by expansion."
The exhibitions in Berkshire are:
• Tuesday 13 January - Datchet Village Hall, 13:00 to 20:00
• Wednesday 14 January - Wraysbury Village Hall, 13:00 to 20:00
• Monday 19 January - Windsor Leisure Centre, 13:00 to 20:00
Residents can view detailed plans and discuss them with members of the Heathrow Hub team.
Two Windsor residents' associations have organised an open meeting against the plans on 20 January at Windsor Racecourse.