Slough fine dodger cars clamped and removed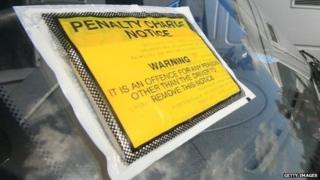 Drivers with unpaid parking tickets are being warned their vehicles will be clamped and possibly towed or sold if they fail to pay up.
Slough Borough Council said it wrote off about £130,000-worth of unpaid parking tickets each year.
The authority said it would begin clamping cars on 19 January.
Anyone failing to pay up within two hours could have their car removed and eventually sold at auction to cover the debt, a spokesman said.
Council parking manager Kam Hothi said: "Drivers are given up to seven opportunities over the course of about four or five months to pay their parking ticket or speak to us if they're having difficulty paying.
"Each time someone fails to respond to our letters and notices, the fee goes up. So what can begin as a £25 or £35 parking ticket can end up as £392 or £422.
"Clamping vehicles is a last resort but it's one we're willing to take to recover the money we're owed and prevent a further rise in the number of unpaid tickets."