Tony Blackburn reunited with friend he thought was dead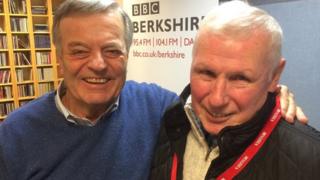 Tony Blackburn has been reunited with one of his best friends - 35 years after the veteran DJ and his radio colleagues thought he was dead.
Richard Swainson worked with Blackburn on pirate stations Caroline and London, but news spread he had passed away.
So when Mr Swainson, who now lives in Berkshire, told a BBC reporter he was old friends with the DJ, Blackburn dismissed the claim.
"He's come back from the dead," said Blackburn. "It's a very odd story."
Blackburn, who presents a show on BBC Radio Berkshire, heard from the station's roving reporter Susanne Courtney that a man called Richard in Mortimer, Berkshire passed on his best wishes to him.
"We worked together for the best part of 10 years, we used to go on holiday together. I was best man at his first wedding. We were inseparable," Mr Swainson told the BBC.
They met at Radio Caroline in 1964 and worked together at Radio London as well as at RCA records, which had signed Blackburn and where Mr Swainson worked in A&R.
"He was one of my best friends," said Blackburn.
"But we lost contact when I started working at Radio One.
"Then somebody said to one of us that sadly he had passed away - this was about 35 years ago.
"That was it really, we heard it on the grapevine.
"We weren't invited to any funeral but we didn't think it was strange as we'd not been in touch for years - it was just one of those things."
'Weirdest phone call'
So when Blackburn received these best wishes via the reporter, he "thought it was somebody just saying that".
He added: "Quite a few people in the past have said they know me but in fact they don't.
"I said that I knew a Richard Swainson but that he's dead, so it can't be him."
Blackburn called up radio colleagues past and present to check. They all said that Mr Swainson had definitely died some time ago.
However, photographic evidence sent via the reporter's smart phone showed Richard Swainson was, in fact, very much alive.
Gobsmacked, Blackburn invited his back-from-the-dead friend for a reunion on his BBC Radio Berkshire show on Friday morning.
"After the programme last week I rang Richard up," Blackburn said.
"I said 'Hi Richard, this is the most weird call I've ever made'."
Mr Swainson, who said he did not know why everyone thought he was dead, said of the reunion: "It's amazing."
The pair now plan to keep in touch.