Reading junction's traffic lights switched off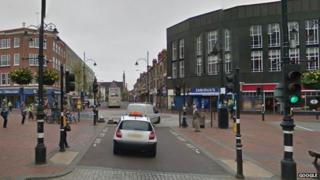 Traffic lights at a town centre junction used by 2,000 buses daily have been turned off in a bid to speed up journey times.
Reading Borough Council's switch-off at the St Mary's Butts, Broad Street, Oxford Road and West Street crossroads will last for six months.
At the end of the trial, the effect on bus journey times will be assessed.
Martin Gilbert, chief executive of Reading Buses, said they "wholeheartedly" welcomed the move.
"We saw significant improvement in the timekeeping of buses within the town centre when these lights were turned off previously for roadworks, with no detriment to other road users or to pedestrians," he said.
"Indeed, it helps make all parties more aware as you are having to check whether there is other traffic approaching."
Tony Page, Reading Borough Council's lead member for Strategic Environment, Transport and Planning, said: "Over 2,000 buses, covering more than 25 bus routes, travel through this junction everyday.
"By switching off these traffic signals we estimate that journey times will be cut for the many thousands of passengers on these buses."
He said a decision will be made later this year as to whether to make the switch-off permanent.