Reading's Priory Avenue GP surgery in special measures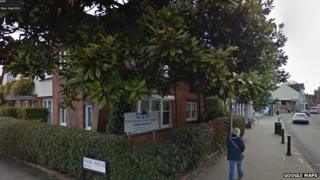 A Reading GP surgery has been placed in special measures by a health watchdog.
The Care Quality Commission rated Priory Avenue Surgery as Caversham "inadequate" in three of five categories.
It found the sharing of information about patient care had been "severely compromised".
Specialist Health Services (SHS), the group that runs the surgery, said patient care remained its "top priority".
SHS took over the surgery after several GPs resigned in 2012.
The surgery is one of three in England to be placed in special measures for the first time by CQC.
The others are Norris Road Surgery in Sale, Greater Manchester, and Dharmana's Family and General Practice in Walton, Liverpool.
'Backlog of letters'
CQC said that at the time of the inspection in November, Priory Avenue Surgery, which has 8,000 registered patients, had been going through "significant staffing changes, with a series of resignations causing disruption for several months".
Patient records were not up to date with recent test results or hospital discharge information, suggesting patients "may not have been receiving appropriate follow-up treatment or care".
CQC identified 14 areas for improvement, including taking immediate action to address staffing issues "to ensure safe minimum levels are reached".
Deputy chief inspector of general practice Ruth Rankine, said: "The basic process of sharing information about patient care had been severely compromised - with a backlog of letters from hospital, or reports from out-of-hours services which needed to be processed and acted on."
The surgery was graded inadequate in the categories of being "safe", "effective" and "well-led".
In the categories "caring" and "responsive", it required improvement.
Dr Anant Sachdev, executive director of SHS, said: "Having taken over a practice with many challenges, we have since made and continue to make good progress, including patients being seen on the same day if required."
NHS England medical director Geoff Payne said: "There is no evidence of direct clinical risk to patients or of patients being harmed.
"We have already begun work with the practice to ensure action plans are in place."