Wexham Park Hospital in Slough spent £9m on agency nurses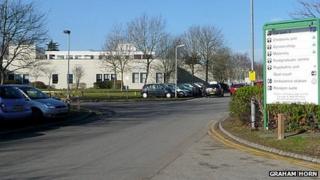 A hospital in Berkshire has been criticised for spending more than £9m on agency nurses to fill staffing gaps.
Wexham Park Hospital in Slough spent £9.14m between December 2013 and December 2014, more than double the national average.
In response, The Royal College of Nursing (RCN) warned "over-reliance" on agency staff was bad for patient care.
The hospital admitted it was struggling to find new staff but was actively running recruitment campaigns.
It comes after a Care Quality Commission inspection in May found unsafe staffing levels were a consistent theme throughout the hospital, with a heavy reliance on agency staff often unfamiliar with wards.
'Immense pressure'
The struggling Heatherwood and Wexham Park Hospitals NHS trust was placed in special measures and taken over by the Frimley NHS Foundation Trust at the end of 2014.
Dr Peter Carter, chief executive and general secretary of the RCN, said: "Over-reliance on agency staff is bad for continuity of care and that is bad for patients.
"The NHS is under immense pressure and it is now time for serious workforce investment and sensible, long-term workforce planning. Anything less will be selling future generations severely short."
Wexham Park said it was actively running campaigns for nurses in the UK and overseas.
In a statement, it added: "Patient care and safety must be a priority, and where we do have vacancies, we use our own staff to cover additional shifts where possible and additional agency staff to ensure that the number of nurses on all wards are at the correct level to provide safe care to our patients.
"Like many trusts... [we] experience difficulties recruiting, as nationally the demand for staff outstrips the supply, and the trust works hard to maintain as low a vacancy rate as possible."