Caversham shopping precinct plans approved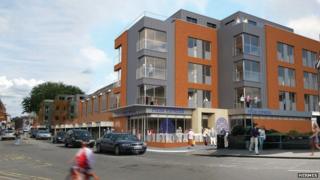 Plans to transform a Berkshire shopping precinct have been approved.
St Martin's Precinct in Caversham will be revamped to include new apartments, shops, a restaurant and a cinema, which is expected to create 70 jobs.
Reading council's planning committee said the precinct upgrade was "overdue" and the investment was a "once in a lifetime opportunity".
Caversham Traders' Association chair Chris Walton said it was "great news" but extra parking was needed.
Investment company Hermes, which owns the precinct, said it would also extend the longstanding Waitrose supermarket by a third, create a "high street" feel with the extra shops, create a Caversham Square and improve access to the nearby River Thames.
A spokesman said the company was "delighted".
He added the works would "add to the vibrancy and vitality of the existing precinct and to the village centre as a whole".
Mr Walton said the new precinct was "going to be exciting", as it was currently "a bit of a drab, sad area", but that parking would be an issue.
He said the current increase from 254 to 324 spaces was not enough.
He added: "If you're making something bigger you need the facilities to cope with it."
Helen Lambert, chair of the Caversham and District Residents Association, said the group welcomed regeneration but "remain concerned about some aspects of the design and its impact on Church Street".
Reading Borough Council deputy leader Tony Page said: "St Martin's Precinct has been due an upgrade for some time now.
"This is a unique, once in a lifetime opportunity to regenerate a key area of Caversham."
He added the development would secure "more than £430,000" in funding to "tackle local transport issues".