Brians 'outraged' by Brian the police horse name change plan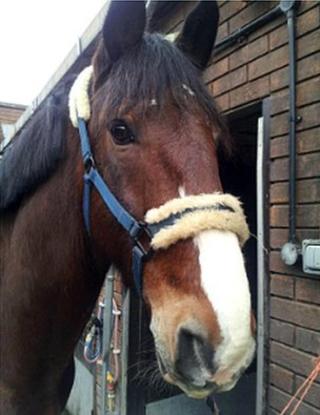 Brians have expressed "outrage" that a Thames Valley Police horse of the same name may have it changed to a more "god-like" one such as Hercules.
The six-year-old horse is on trial with the mounted section, but if he passes various tests he will be Brian no more.
A police spokeswoman said the section tended to give their horses "god or war-related names, such as Odin, Thor or Hercules".
Brian Poulson, from Bracknell in Berkshire, said he was "appalled".
He said: "Brian should be one of the most popular names, one of the most popular Monty Python films is Life of Brian.
"There is no way they should be changing the name, every horse should be called Brian!"
The horse, thought to be a Shire/Fresian cross, will be on trial with the force for the next six weeks, during which he will be given progressively harder tests and challenges.
These will include going out on patrol in town centres, crossing bridges and going through underpasses.
If he passes these tests the moniker Brian will be removed and replaced with a name the force feel is more fitting.
Brian Lewis from Ascot said: "I think it's outrageous. Brian is a good name for a horse."