Maidenhead Waterways: Fish removed as dam installed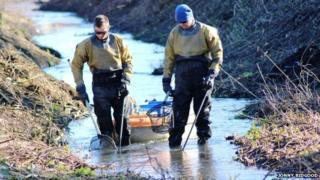 Thousands of fish are being removed from a stream in Maidenhead as part of a £2.1m project to restore waterways.
Contractor Greenford has erected a temporary dam at Town Moor to divert the flow of York Stream, allowing it to be drained ready for channel works.
MEM Fisheries is carrying out a "fish rescue" as the flow is closed off.
One fishing boat is involved in the operation, with workers netting the fish and putting them in holding tanks for transport further downstream.
The stream, which runs through the centre of the town, is set to be widened in places from 10ft (3m) to 50ft (15.2m). Work is expected to take a year.
The scheme aims to create impressive waterway views for several new developments planned in the town.
Richard Davenport, head of Maidenhead's Waterways Restoration Group, said: "We're at a very key point now as we start the works after years of design."
Further stages will involve creating a weir at Green Lane and restoring Moor Cut to create a waterway ring.