Windsor has plans for patrol team to tackle late-night 'disruption'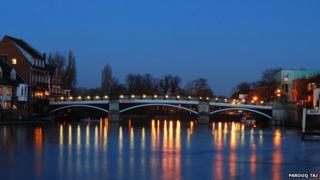 A Berkshire town wants to tackle "disruptive" weekend behaviour by creating a dedicated patrol team to man the streets until 03:00.
Windsor council's claims of an increase in anti-social antics has led to the idea for community wardens and council officers to form an early-hours team.
A town councillor said some of the wardens, who currently clock off at 21:00, were "unhappy" with the idea.
Police figures show night time economy-related crimes have decreased.
'First responders'
The Royal Borough of Windsor & Maidenhead discussed a six-month pilot on Thursday night that would mean community wardens working a new late-night shift.
The idea is that they act as "first responders" to a situation and alert police so that any issues can be dealt with "proactively before they become a problem".
The council highlighted an increase in drunken disturbances in residential town centre roads and incidents of anti-social behaviour at Eton Bridge.
Independent councillor Wisdom Da Costa, who also chairs the West Windsor Residents' Association, said wardens were not trained or equipped to deal with potentially explosive night-time incidents.
He said wardens he spoke to were "very unhappy" that this plan with extended hours was "being foisted upon them".
The council stated in its agenda item on the plans that "past experience" suggested "officers may not be willing to volunteer to staff a weekend/shift arrangement".
Its solution was "to utilise the flexibility clause contained with the standard terms and conditions of employment".
Thames Valley Police figures for December 2012, 2013 and 2014 show a decrease in crimes relating to anti-social behaviour and public disorder.
The council said it also based its plans on "anecdotal data".
Community wardens are a uniformed patrolling force who work in partnership with the police, local authority and other agencies.