What motivates a campaigner?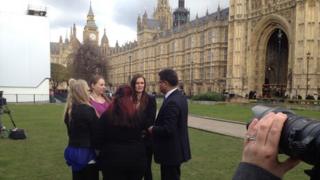 Tracey Fidler and Hayley Lindsay had their lives turned upside down on 13 February last year.
Their fiancées Kris Jarvis and John Morland were out cycling in Berkshire when they were hit and killed by a drunk driver.
Alexander Walters, from Purley-on-Thames, was over the drink-drive limit and had taken cocaine.
He was driving a stolen BMW when he lost control and hit the pair, and in April was sentenced to 10 years-and-three months in jail after admitting seven charges, including two of causing death by dangerous driving.
Tracey and Hayley are campaigning for stronger sentences, a campaign that brought them this week to the House of Commons.
"We want to get the law changed," Hayley says. "We don't want other families to go through what we've been through."
An online petition set up by the two women now has more than 80,000 signatures.
Tracey said they've found campaigning a powerful way to cope with their grief: "It's always emotional, but we know that we've done our best by them."
The women's petition calls for a change in the law, whereby a driver convicted of causing death by dangerous driving would receive the maximum sentence of 14 years imprisonment per person killed.
After their petition received 10,000 signatures, the Ministry of Justice said: "We want to ensure that maximum penalties for driving offences reflect the seriousness and culpability of offending behaviour.
"A review of driving offences and penalties has been announced to ensure that the options available to the courts are proportionate and reflect the seriousness of the offences committed."