Mike Barton completes 366-day stay in tent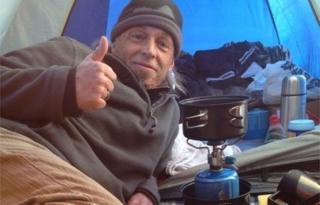 A man who was severely burnt as a child has completed a challenge of living in a tent for a year and a day.
For the past year, Mike Barton, 47, has been travelling across the country to raise awareness about fire safety.
At 12:00 GMT he finished the challenge at a campsite outside Kirkham near Blackpool.
Mr Barton, from Newbury, has been raising cash for the burns units at the Royal Manchester Children's Hospital and Odstock Centre in Salisbury.
'Weird experience'
He said the main aim of the challenge had been to raise awareness of fire safety.
"If I reach one person a day, it counts and I have reached far, far more people than that.
"I am looking forward to finishing but there is much more to do.
"It will be a weird experience to be indoors and warm and not feeling every bone in my back when I am trying to sleep."
Mr Barton has raised £600, but said he had been encouraging people to donate directly to the Manchester hospital.
Aged four, a third of his body was burned in a blaze at his family home in Bolton.
Mr Barton, who had his laptop and two phones stolen during his year in a tent, has been talking to children in schools and on the street about fire safety during the challenge.
He said he had spent £18,000 of his own money on the challenge.
He now plans to spend a year and a day in a fire engine, after returning home to Newbury to regain his health, as he has lost two stone in weight.