Wokingham roadworks 'affecting town's businesses'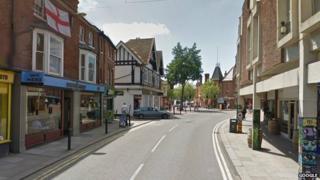 Businesses in Wokingham are suffering and takings are down by as much as 70% because of roadworks, according to some shop owners.
Wokingham Borough Council began 12 weeks of work on Station Road in the town centre on 9 February.
Kirsti Morrish, who runs Code Boutique in Peach Street, said: "Business has literally fallen off the cliff, it's dropped for some of us by 70%."
The council said compensation appeals could be made via the Valuation Office.
It said it would provide a list of the relevant agencies on its website for businesses who considered themselves out of pocket.
Ms Morrish said shoppers were opting for nearby Reading to avoid the roadworks.
She added: "The day the roadworks started the drop in the amount of people coming in to Wokingham was palpable.
"Obviously the knock-on effect of that is if there's far less people then they are not spending their money. It's not just one or two shops struggling, it's across the town."
'Difficult choice'
Georgina Hustler, founder of Antique Rose in Market Place, said: "Could they have looked at other options to maybe have overnight road works or have it just a single file of traffic to keep the flow of traffic going?
"It doesn't seem like they have considered the overall impact of these works."
Wokingham transport councillor John Kaiser said: "It's very difficult because there's so many people involved, such as Network Rail and so on, so we have to fit in to their timetable.
"We have a choice - do we close half the road off? Actually, what that does, is extend the time [of the roadworks]."
The road is currently being upgraded following the revamp of Wokingham train station.