Prized canaries stolen from Reading aviary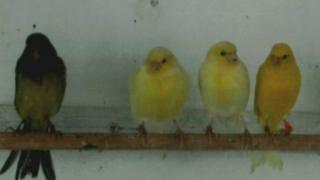 A breeder has been left "heartbroken" after 24 of his prize-winning canaries were stolen.
Thieves managed to get past three locks to raid John Mulcahy's aviary at his home in Kingsbridge Road, Reading, overnight on Sunday.
They selectively stole the show birds, worth about £30 a pair, while leaving behind 20 less valuable canaries.
Mr Mulcahy, 76, said he had devoted decades developing the bloodline to his prized animals.
'Stolen to order'
He told BBC News: "These are not just any old birds, they have won a lot of competitions.
"I don't have a clue why someone would do this. It is possible they have been stolen to order.
"They mean everything to me, they've taken my hobby, it keeps me going, it's heartbreaking."
The stolen birds consisted of 20 yellow Irish Fancy canaries and four mules, which are a cross between Goldfinches and Irish Fancy canaries.
Each bird has a ring around its foot bearing the initials JM.
Mr Mulcahy said it was the second time he had been targeted by thieves, with eight canaries stolen about 20 years ago.
Police are appealing for information.