Berkshire and London human trafficking arrests after nail bar raids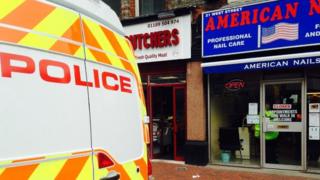 Ten people have been arrested for human trafficking offences after police raided nail bars and other properties in Berkshire, London and Yorkshire.
The raids involved 150 officers and followed an 18-month investigation known as operation Rehoboam.
Thames Valley Police, which led the operation, worked with the Metropolitan Police and North Yorkshire Police to make the arrests and recover victims.
The arrested five men and five women have all been released on police bail.
On Tuesday, police raided three nail bars and three addresses in Reading, two nail bars and two addresses in Wokingham, one address in West Berkshire, five addresses in London and one nail bar in York.
The arrested people are:
A 33-year-old woman from West Berkshire
A 40-year-old man from London
A 32-year-old woman from Wokingham
A 31-year-old man from Reading
A 39-year-old man from Wokingham
A 19-year-old man of no fixed abode
A 29-year-old woman from London
A 20-year-old man from Reading
A 33-year-old woman from Reading
A 24-year-old woman from Reading
All have been bailed until 23 June apart, from the 24-year-old woman, who has been bailed until 20 March.
The victims were taken to rest centres and looked after by officers, the British Red Cross and the Salvation Army.