Reading velodrome 'unsafe' for competitive races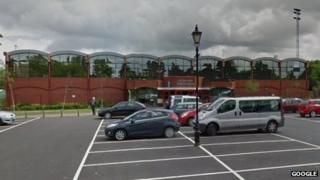 A velodrome has been ruled "unsafe" to host competitive cycling events following an inspection.
Palmer Park in Reading is being assessed by British Cycling and Reading Borough Council after a specialist safety check found problems at the venue.
Inspectors found the track surrounds and the fence were unsafe for hosting formal events, British Cycling said.
The council said the track remained safe for non-competitive use.
British Cycling said: "Coaching activity and training are still permitted - so long as certain risk management measures are undertaken.
"Competitive cycling will not be sanctioned by British Cycling until improvements are made."
The council and the national governing body for cycling said they were working together on a solution to upgrade the track.
A spokesman for Reading Council said: "We are fully committed to working with British Cycling to ensure the safety of riders."
Competitive racing at Brighton's velodrome has been temporarily suspended after it was declared unsafe for competitive racing last month.
Mountbatten Centre, Portsmouth where a police officer died following a crash during a cycle race in March last year remains closed to all cycling.