Purley cycle deaths petition signatures top 100,000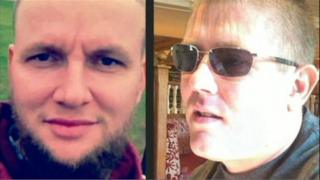 An e-petition urging a change in the law for drivers who kill cyclists has attracted more than 100,000 names.
It follows the deaths of John Morland, 30, and Kris Jarvis, 39, who were killed by a drunk driver in Purley-on-Thames, Berkshire, in 2014.
Alexander Walters, 31, was later jailed for 10 years and three months.
The men's fiancées, Tracey Fidler and Hayley Lindsay want the law changed so that drivers get the maximum sentence of 14 years for each person they kill.
Their e-petition now has enough support to trigger a debate in Parliament.
After their petition received 80,000 signatures last month, the women met the prime minister to lobby for tougher sentences for drivers guilty of causing death by dangerous driving.
Walters, who admitted seven charges, including two of causing death by dangerous driving, was drunk behind the wheel of a stolen BMW in February 2014 when he lost control and hit the two men.
He was over the drink-drive limit, had taken cocaine within the previous 24 hours and was doing at 70mph in a 30mph zone.
Both keen cyclists, Mr Jarvis was a father of five and Mr Morland a father of two.
Their MP Alok Sharma, who represents Reading West for the Conservatives, said: "Nothing can ever bring back Kris and John, but I hope that their campaigning will mean that in future justice will be properly be served for the families of victims."
The Court of Appeal rejected Walters' bid to have his sentence reduced in October.