Pangbourne wood pesticide spraying 'no clear wildlife impact'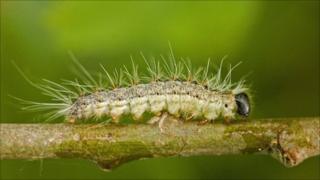 There is no clear evidence a pesticide sprayed in Berkshire woodland harmed moths, birds and bats, a report said.
Investigations took place after the Forestry Commission (FC) sprayed in Pangbourne in 2013 to eradicate harmful oak processionary moth (OPM) larvae.
The report noted a "significant" drop in moth numbers, but could not definitely attribute this to the spray.
The FC said other studies showed "that most species return to pre-spraying levels within two years".
The OPM caterpillar feeds at the top of oak trees and contains a toxin in its hairs that can cause itchy rashes, eye and throat irritations.
Investigators Butterfly Conservation issued its biodiversity summary report, which assessed the effect on wildlife within a year of an aerial spray of the pesticide Bacillus thuringiensis (Bt) - the first of its kind in the UK.
At the Herridge and Broom Copses in Pangbourne, 4,722 moths were recorded in the sprayed area compared to 7,391 in an unsprayed area.
'Species recover'
But the report stated it could be the "unsprayed wood is a richer site".
It did state the spraying was "a likely explanation" for a decline in certain species such as Green Oak Tortrix and various species of Quaker moth.
It also found a "significant impact" on moth numbers during a similar study at Richmond Park, London.
Bats in Pangbourne suffered "no significant impact" and blue tit productivity increased between 2013 and 2014, though a "paucity" in the bird's family group activity was also recorded.
An FC spokesman said: "Butterfly Conservation's report confirms what we already knew: that Bt treatment can have a short-term effect on biodiversity and some non-target species.
"There is evidence from other studies that most species return to pre-spraying levels within two years."
He added there were no plans to further spray the copses this year.