Reading FC fan nicknamed 'Pudding' banned for three years for somersaults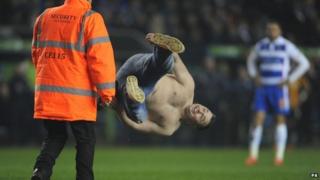 A football fan nicknamed "Pudding" who took his shirt off and did somersaults on the pitch while his team were 3-0 up has been banned for three years.
Charlie Sumner, 20, of Woodley, Berkshire, ran on to the pitch at Reading's Madejski Stadium on 16 March to "celebrate".
He was escorted off the pitch as Reading played Bradford City in an FA Cup quarter-final replay.
At Reading Magistrates' Court he was fined £265 and banned for three years.
The Reading supporter did four front flips on the pitch, landing on his back each time, after his team had scored three goals.
Footage of Sumner's antics went viral on the internet as the match had been broadcast on BBC One.
'Five minutes of fame'
His solicitor entered a guilty plea on his behalf at an earlier hearing to one count of going on to a playing area at a football match under the Football Offences Act 1991.
Sumner was also ordered to pay £85 costs and a £27 victim surcharge and said afterwards that he planned to appeal against his sentence.
The fan said: "I think that I've been made an example of and that both the banning order and the fine are harsh.
"I apologise to anyone I may have offended but the reason for going on the pitch was to celebrate.
"I've had my five minutes of fame and I won't be doing it again."
Sumner is banned from going within two miles of any football stadium where Reading are playing, with the ban covering a period three hours before and six hours after all matches.
He is not to go to the Madejski Stadium at all.