Birds and cannabis seized at Raven Haven in Crowthorne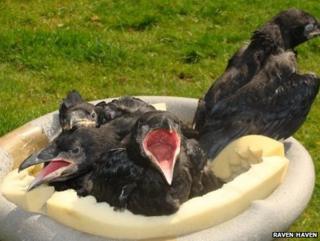 Birds have been seized and a cannabis "factory" discovered after police raided a bird sanctuary in Berkshire.
Police said 180 birds were being removed from Raven Haven in Crowthorne over welfare concerns when a "suspected cannabis factory" was also found.
Some birds had to be put down because "they were in such a bad state".
Two men, aged 57 and 61, from Crowthorne were arrested on suspicion of producing a class B drug and are currently on police bail.
Police, along with vets and representatives from the RSPCA and Defra, entered the site on Sandhurst Road on Wednesday with a warrant issued under the Wildlife and Countryside Act.
They seized the birds of varying breeds and officers took away 70 cannabis plants and 9kg (20lb) of prepared herbal cannabis.
The site's owners put a statement on their Facebook page: "Raven Haven is closed until further notice. Thank you all that have supported us."
An RSPCA spokesman said: "The RSPCA assisted police at their request during a warrant at a bird sanctuary in Berkshire.
"We will continue to assist when called upon by the police, who are leading on this matter."