Bracknell Half Marathon: Hundreds raise money for charity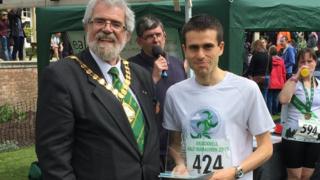 Hundreds of runners have completed the Bracknell Half Marathon.
The event, which started and finished at South Hill Park, raised money for the Mayor of Bracknell Forest's chosen charity - Pancreatic Cancer Research.
Nick Handley crossed the line first in the men's race in a time of about 1hr 15mins with Samantha Amend the first lady to finish.
"I always enjoy this race as it's extremely well supported," said Mr Handley.
It was a satisfying victory for Nick, who went one better than his runners-up finish from last year.
"I was in the lead fairly early on and I always find that a bit of a challenge," he added.
"I was conscious not to overdo it too much having completed the London Marathon two weeks ago, but I had enough left in the legs thankfully."