Slough council flag at half mast after mayor's death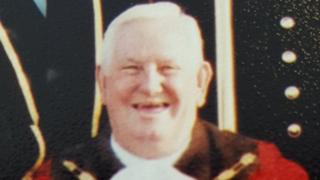 The flag at Slough Borough Council's offices is flying at half mast following the death of a former mayor.
Ronald Webb, 87, represented Langley St Mary's and Kedermister wards from 1997 to 2004.
He served as mayor in 2000/01 and was also a member of Berkshire County Council before it was dissolved in 1998.
He died on Saturday leaving his wife of 59 years, Adrianne, two children and three grandchildren.
Council leader Rob Anderson said: "Ron was hugely respected as a senior member of the council.
"Adrianne and he were tireless supporters of civic life in Slough and we are all sad at his passing."
The council said the flag would remain lowered at St Martin's Place until the funeral, which is yet to be finalised.