Reading Carnival cancelled for second year running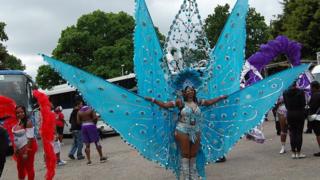 A Caribbean carnival plagued with problems has been completely scrapped for a second year running.
Reading Carnival's organisers had already said there would not be a procession this year, but now hopes of a smaller event have been dashed.
The carnival has been run by Reading's Caribbean community since 1977 but was axed in 2013 and 2015 while a stripped-back event was held in 2014.
A lack of funding has been blamed for the latest cancellation.
The event usually features a procession through the town's streets, featuring music and floats, ending in Prospect Park, and has attracted up to 5,000 people.
But Sonia Walker, from the Reading Caribbean Cultural Group, said to hold the event without the procession "would not do it justice".
"We are without the necessary funding to ensure a successful event, and most importantly, it was felt that by having no procession there can be no carnival," she said.
"Disappointing as it may be, we felt strongly that to put on a park-only event this year would not do justice to the carnival as an event."
She said work was already under way to ensure next year's event, the 40th anniversary of Reading Carnival, does take place.