Reading special measures school's actions 'not effective'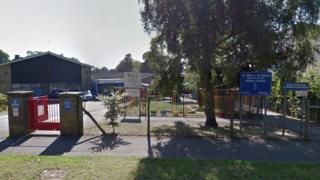 A school that was put into special measures in 2014 has been told managers have not taken "effective action".
School inspector Ofsted published its monitoring report on St Mary and All Saints Church of England Voluntary Aided Primary School on Tuesday.
Inspectors said the Reading school cannot employ newly-qualified teachers until the next inspection.
The report added that "significant improvements" had been made since a new head teacher was appointed in August.
'Bound to take time'
Ofsted found that boys at the school achieved significantly less than girls in most classes, and the gap between disadvantaged pupils and other children was "too wide".
Inspectors added that although teaching had improved at the school, it was "still too inconsistent".
The school remains in special measures and there are currently discussions between the diocese and governors about the school joining a multi-academy trust.
Interim head teacher Margaret Bainbridge said: "We still have some way to go, but the descent into special measures doesn't happen overnight, and so the removal of the label is bound to take time."
Ofsted has said Ms Bainbridge has made "significant improvements" to the quality of teaching.
Reading Borough Council, which runs the school, said progress had been made there and it has offered assistance to school leaders.