Heatherwood Hospital redevelopment plans go on display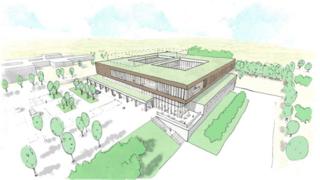 Detailed plans about the £72m Heatherwood Hospital redevelopment have gone on show.
Under the plans, existing buildings in Ascot will be knocked down and a new facility will be built on nearby woodland.
The hospital will include new cardiac facilities as well as more private beds and later opening times for clinics.
Visitors to drop-in-sessions will be given the chance to listen to ideas about the development.
The latest open day will take place at Ascot Racecourse on Friday between 10:00 and 12:00 BST.
Frimley health director of HR and corporate services Janet King said: "Heatherwood and the services it provides are important to the local community and we have one chance to secure a long term future.
"We want to make sure that people understand where we are heading and why, and to listen to what is important as we develop the plan in greater detail."
Work on the hospital could begin in 2017 with completion due in 2019.