Crash death mum Lauren Heath praised for saving baby daughter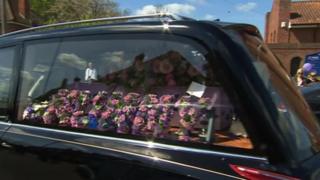 The family of a mother who died when she was hit by a lorry say she saved her baby by pushing her pram out of the vehicle's path "without a second thought".
Lauren Heath, 20, was struck on Basingstoke Road, Reading, on 13 April.
Speaking ahead of her funeral, her uncle and aunt, Kevin and Marie Heath, said she was "a natural mother".
Streets in Whitely were adorned in pink and purple as hundreds attended the service at St Agnes Church.
An online fundraising page - to pay for funeral arrangements and a trust fund for 12-month-old Millie, who sustained minor head injuries in the crash - has raised almost £23,000.
The initial target of £500 was raised within hours of the page being set up.
"Lauren's devotion to her daughter really has touched not only us but the community, and the world - we've had messages from Canada, Brazil, the USA," Mr Heath said.
"Without a second thought she pushed her baby free," he added.
Mrs Heath described her niece as a "family girl" and a "natural mother".
The Reverend Vernon Orr, who led the funeral service, said it was a way of "celebrating her life, saying farewell to her and seeking comfort in our grief, and hope in our sadness and confusion".
---
At the Scene - Joe Campbell - BBC South Today reporter
All along Northumberland Avenue the road was transformed into a ribbon of colour.
An army of mostly young women was out from first thing hanging pink and purple balloons from lamp posts and stringing bunting across roundabouts.
The council gave special permission for this extraordinary display - something which Whitley has never seen before - in recognition of all those touched by the tragic death of Lauren Heath.
---