Richard Burnett keyboard collection auctioned for charity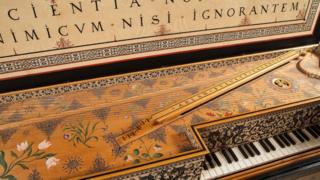 A collection of 70 historic keyboards is being auctioned for charity in Newbury.
The Richard Burnett collection of instruments from the 17th to 19th Century will go on sale on Wednesday.
The money raised from the sale at Donnington Priory will go to the Finchcocks Charity, which supports the maintenance of historical instruments.
English pianist Richard Burnett acquired the collection of vintage pianos over 50 years.
He put them on display at Finchcocks Museum in Goudhurst, Kent, which closed in December following Mr Burnett's retirement.
Auctioneers at Dreweatts & Bloomsbury Auctions said the collection was among "the largest and most comprehensive collection of keyboards to come to the market in recent years".
Highlights from the auction will include a chamber organ by John Byfield, 1766; a singlemanual harpsichord by JJ Antunes, 1785; a virginal by Onofrio Guarracino, 1668, and a grand piano by Conrad Graf, c. 1820.
Proceeds from the auction will allow the charity to train technicians and tuners and maintain instruments.