'Inefficient' Newbury homes to be demolished by housing association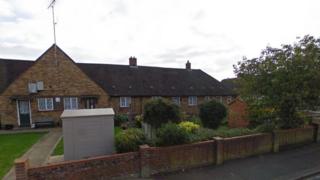 Families living in a 1950s housing estate in Newbury have been warned their homes could be demolished to make way for a "modern" development.
Sovereign Housing Association, which manages the bungalows and flats in Hutton Close, said it plans to demolish 54 units.
It said the upkeep of the properties was "inefficient and expensive".
Residents said there was "nothing wrong" with the properties, with some planning to protest the scheme.
Up to £5,300 has been offered by the provider to assist each person with moving costs.
'Golden oldies aren't wanted'
The association said it plans on "assisting" current residents to move by 18 December and, subject to planning permission, begin redeveloping the site by Spring 2017.
Hutton Close resident Dorothy Clapham, 87, said there was "nothing wrong" with the home that she has lived in for more than 20 years.
She added: "I don't want to move, I told them they can knock the house down around me while I'm sitting here.
"It's supposedly going to be knocked down and used for youngsters. That's it, the golden oldies aren't wanted."
A Sovereign spokeswoman said: "We completely understand the concerns of residents in Hutton Close, so we've both written to them and visited them in person to explain the reasons for the redevelopment and start discussing how we can support them through this unsettling period."
The housing provider has redeveloped a similar association in Kersey Crescent, now called Castle View, in Newbury.
It said the redevelopment will provide the community with modern, private and affordable homes.