Berkshire teacher banned for pocketing school trip money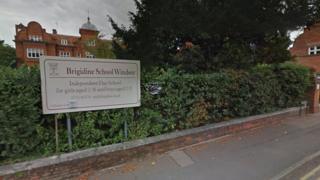 A textiles teacher who pocketed pupils' school trip money has been banned from teaching for life.
Kerry-Leigh Smith, 31, overcharged parents for a knitting show in 2012 and kept the spare change for herself, a panel found.
Miss Smith, who worked at Brigidine School in Windsor from 2010 to 2013, was convicted of fraud by abuse of position last year.
She was given a community order and fined £1010 by Berkshire magistrates.
Miss Smith did not attend the National College for Teaching and Leadership (NCTL) hearing but wrote to the panel to say she "strongly denied the accusations" and maintained her innocence.
'Panicked'
The panel found the teacher requested payments of £32 be made for the cost of the trip by way of cheques payable to herself.
Miss Smith claimed the headteacher had authorised payments be made to her because "at the time the school was having financial difficulties".
The panel could not prove the allegation that she did so in order to "keep a proportion of the monies for purposes which did not relate to the trip", or whether the charges imposed by Miss Smith exceeded the cost of the trip.
'Dishonest'
In a statement, she said she had already partially paid the venue and had expected to pay the balance of £199.05 on arrival and was "confused" when no further monies were requested.
She said she "panicked" and decided to leave the surplus money in her account.
The panel also found that after leaving the school, Miss Smith sought a reference from the previous head teacher, who was unaware of the matters which led to her resignation in 2013.
It said her conduct was "dishonest" and it could have misled "potential employers by the circumstances which led to her resignation".
The prohibition order prevents her from teaching in any school, sixth form college, relevant youth accommodation or children's home in England indefinitely.