Newbury Football Club faces Faraday Road eviction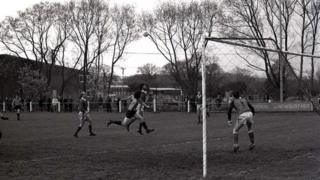 A non-league football club is facing eviction from its ground after it refused to leave at the end of its lease.
West Berkshire Council plans to build housing on the site and has offered the club a two year lease extension as it continues the planning process.
Newbury Football Club has refused the offer with the hope of "putting a stop to the [housing] development".
The council said "we owe it to taxpayers to safeguard council assets".
Councillor James Fredrickson said the authority is now taking legal action as it has "been left with no alternative after the club's last minute U-turn".
Newbury FC was initially given a date to move out on 24 June when its current lease ended.
But delays in the planning process meant the council was able to offer another two years.
Club chairman Keith Moss said he would not sign the lease in order to "buy more time".
According to Mr Moss, the offer of a short term lease has reduced the club's income, forcing it to "drop down two leagues" as the arrangements "did not meet the requirements of the old league".
"The community want us to stay there as it is a community asset that shouldn't be built on," Mr Moss said.
"We have suggested other options in the town but the council has said no to all of them. We are just going to keep fighting this as we've been doing it long enough."
Formed in 2002, Newbury FC plays in the Thames Valley Premier League.
Football has been played at Faraday Road for more than a century. It was previously home to Newbury Town FC, which was dissolved in 1995.
The 2,500-capacity ground is also home to AFC Newbury Boys & Girls Football Club which, according to its website, "provides football training and team match play for more than 360 children".
A petition to save the ground from development has so far garnered more than 5,000 signatures.