Ascot residents 'furious' with controversial hospital plan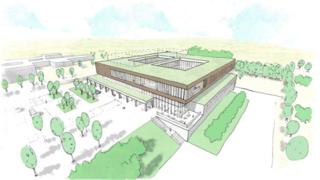 People living in Ascot are "boiling furious" about a proposed £72m redevelopment of a Berkshire hospital.
Plans for Heatherwood Hospital, which were shown at a public consultation on Thursday, include knocking down the existing buildings and replacing them with a new facility on green belt land.
Proposals also include the construction of more than 200 new homes.
Local resident Ruth Timbrell said building on the nearby woodland would be a "disgrace".
"The people of Ascot have been thrown down the river. It makes me boiling furious. What we need is a proper hospital - not a glorified housing estate", she said.
Mrs Timbrell added that the new housing would also add to an "already heavily congested area".
'Controversial'
Andrew Morris, chief executive at the trust, said the proposals require around 20 acres of land - 10 acres from the existing site and another 10 acres from the nearby woodland, which would also be opened up to the public.
"We want to put the hospital in the best part of the site which is in the woodland so it gives patients a fantastic setting when they recover from their operations", he said.
"The site is green belt, so it is controversial, but we need proceeds from the land sale to actually finance or contribute towards the £72m."
Mr Morris confirmed that land from the existing site near Ascot High Street will be sold off to make way for around 230 new houses, which will help finance the new hospital.
Work on the hospital could begin in 2017 with completion due in 2019.