Slough's £22m learning centre opens after delays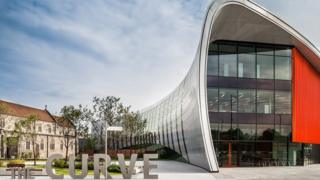 A long-awaited £22m learning centre has opened after its initial unveiling was delayed due to asbestos removal and an increase in costs.
The Curve had been due to open in Slough in September 2015 but was setback three times due to an underestimation of work required.
It includes a new library, cafe and museum, and is part of a £1bn regeneration of the Berkshire town.
Councillor Phillip Wright said it would be "an iconic community building".
"You're going to see a different Slough now. It's a community based building, we want the community to use it and have a taste of what it's like", he added.