MP's tweet over disabled protest in London prompts backlash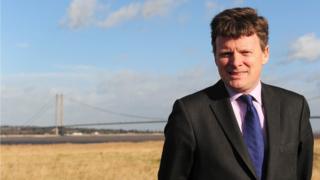 An MP's tweet claiming a disability protest was "disrupting millions of Londoners" has caused a backlash online.
Newbury MP Richard Benyon posted a picture of protesters blocking Westminster Bridge earlier.
He said the group was causing disruption by "sitting down" on the bridge next to Parliament.
Some of the protesters were wheelchair users. Two people were arrested for obstructing a public highway.
Linda Burnip, founder of the group Disabled People Against Cuts which was behind the protest, said: "I think he needs to ask himself why we need to protest and block roads rather than be rude to us."
Mr Benyon's tweet, which has since been deleted, sparked responses from a number of social media users.
One user, Caroline Taleb wrote: ".@RichardBenyonMP imagine the disruption in yr life if u are disabled and have to lie in your own urine all nite because of social care cuts"
While Samuellification tweeted: "Maybe that's 'cause some bunch of charmers destroyed millions of Brits' lives with huge, degrading cuts."
Mr Benyon has been approached for comment by the BBC.