AWE staff to hold two 48-hour strikes in pensions row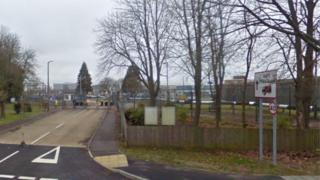 Hundreds of workers at a nuclear weapons company are set to stage two 48-hour strikes in a dispute over pensions.
Up to 600 employees at the Atomic Weapons Establishment (AWE) are set to walk out at the Aldermaston and Burghfield sites in Berkshire.
Strikes will take place on 18 and 30 January after 92% of staff voted for action.
The Unite union said "broken promises" were to blame.
AWE said the company is "committed to establishing future pension arrangements that are affordable for our staff and attractive to future employees."
The union claims assurances made to workers in the early 1990s, when pensions were moved from the Ministry of Defence to the private sector, have been broken.
Members want back in to the old scheme, it added.
Workers have already held two days of strike action, on 14 November and 6 December 2016, in response to the changes.
An AWE spokesman said "detailed contingency plans and resilient measures" are in place to deal with industrial action.
"We have offered a significantly improved scheme and additional enhanced benefits," he added.