Reading's Cow Lane plan for dedicated traveller site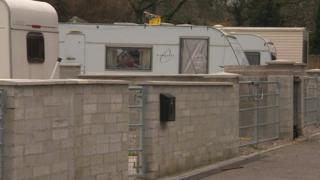 Plans to open a dedicated site for travellers in Reading have been announced by the borough council.
The authority has identified land at the junction of Cow Lane and Richfield Avenue with space for up to 10 permanent or 24 transit pitches.
Almost £95,000 was spent on dealing with 87 unauthorised encampments in 2016-17 and the new site could help reduce future costs, the council said.
A public consultation into the proposal is set to start later this month.
Reading Borough Council said 80 sites had been considered after an assessment it carried out demonstrated a need for 10 to 17 permanent and 10 transit pitches for travellers in the town.
Deputy council leader Tony Page said the borough could only "part meet" the identified need so as well as consulting on this site, the next step would also involve approaching other local authorities to see if they could help.
Councillor Liz Terry, lead member for neighbourhoods, said: "Importantly, the availability of a dedicated transit site in the local authority area means police could potentially make full use of powers which require travellers to leave land quickly if there is a suitable pitch located elsewhere in Reading."
A council document outlining the plans says using the site is one of two proposals being considered. The other is not to proceed with the plan.